I love photography and I love my photoblog ;-)
Last month, I tried to find on Internet a Windows screen saver that could download my photoblog's RSS feed and display the last pictures in a slideshow way but I couldn't find one. Since my RSS 2.0 feed contains <media:content> tags (like the feeds from Flickr), I decided to build one from scratch.
And voilà ! I did it ! … moreover, anybody can download it and use it for free, with any feed !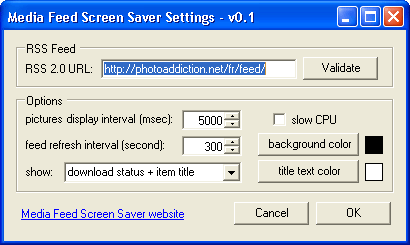 Features :
compatible with any RSS 2.0 feeds embedding images through <media:content> or <enclosure> tags (thus compatible with any Flickr feed)
RSS feeds and images are refreshed in background
supports caching (minimizes your Internet bandwidth usage)
displays pictures full screen with (or without) their title
supports GIF/BMP/JPEG/PNG/TIFF image formats
fully configurable… feed URL, feed refresh interval, slideshow interval, background color, text color…
Requirements :
A computer running Windows 2000 or XP (I don't know if it works under Windows 95/98/Me) with .NET 2.0 Framework (if this component is not installed, the installer will do it)
Links :